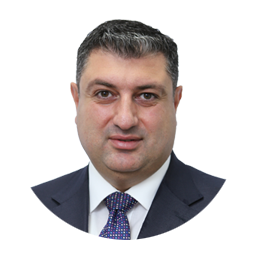 Managing partner
Georgia
T: + 995 322 604 406
Experience
Nelson Petrosyan joined Grant Thornton in 1999 and is leading Georgia operations since 2008.
During the course of his career, Nelson has participated and led engagements for audits of multinational, private and public entities of different sizes. In addition, Nelson is involved in technical matters including financial reporting, accounting standards, assurance and quality control. He also has extensive experience in consulting assignments in operational advisory, business consulting services, transactional advisory and dispute management advisory.
Memberships
member of ACCA - Association of Chartered Certified Accountants (United Kingdom)
member of Georgian Federation of Professional Accountants and Auditors.
Expertise covers
Nelson possesses strong background and wide-range experience in accounting, auditing, management consulting, financial management and control. He possesses profound knowledge of International Standards on Auditing (ISA), International Financial Reporting Standards (IFRS) and International Public Sector Accounting Standards (IPSAS), United States Generally Accepted Government Auditing Standards (US GAGAS).
His professional experience includes industries such as chemical production, energy, infrastructure, transportation, utilities, forestry, software development, food and beverages, retail, media and broadcasting, as well as non-profit organizations and foundations engaged in development and humanitarian activities. He leads assignments for donor-funded projects financed by the World Bank, the Asian Development Bank, the United Nations, KfW, EBRD, Millennium Challenge Corporation, USAID and other international financial institutions.
Qualifications
Nelson holds a Master's Degree in Public Policy and Administration from the University of Massachusetts and a degree in economics and business administration. He is also full member of ACCA.